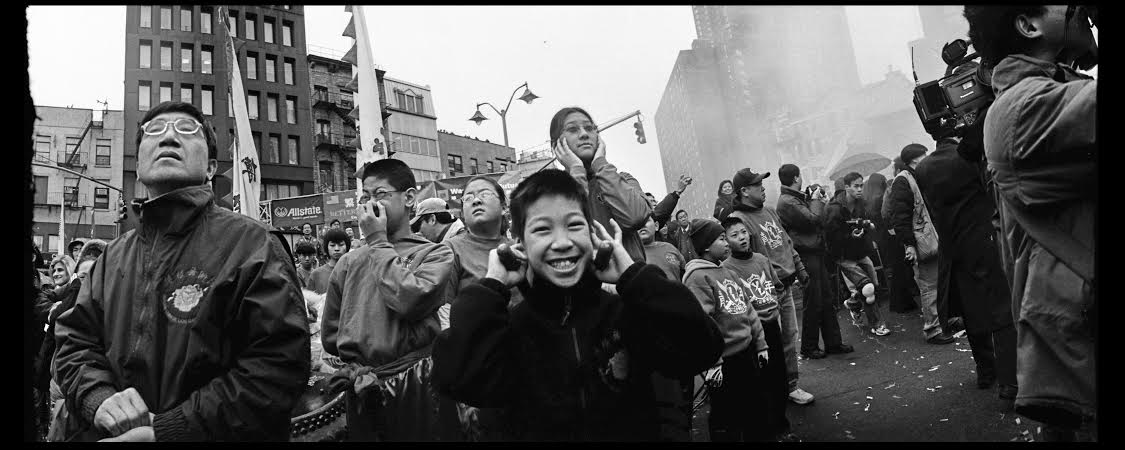 Photo Courtesy of Alan Chin
We Landed / I Was Born / Passing by - New York's Chinatown on Screen
Anthology Film Archives
Jan 24 - 26, 2014
Curated by Lesley Yiping Qin, Lynne Sachs, Bo Wang and Xin Zhou
About
| Program Details |
Press
Fri, Jan 24 7:30pm | Program 1: Two Cold Nights in New York Chinatown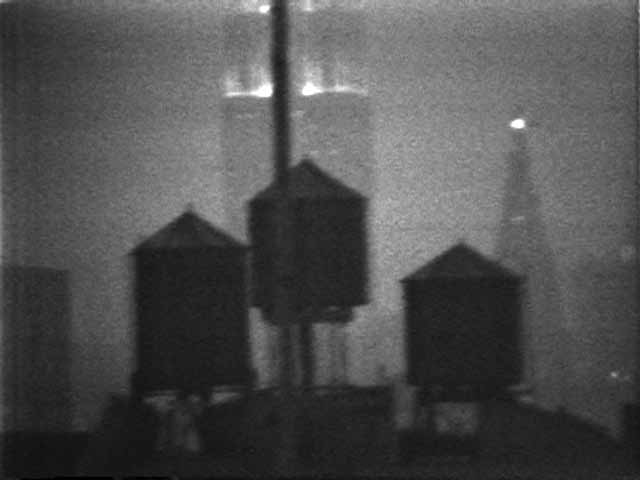 Voyeur Chinatown, by Gordon Matta-Clark
Part of the Chinatown Film Project commissioned by the Museum of Chinese in America,
Jem Cohen
's NIGHT SCENE IN NEW YORK is a close nocturnal observation of the people and lights of this urban milieu. In contrast to Cohen's beautifully shot yet vernacular street scenes, conceptual artist
Gordon Matta-Clark
's black-and-white video work expresses a more distant gaze on the Chinatown community, offering an ambivalent and imaginary take on the same cityscape.
VOYEUR CHINATOWN (1971) Dir. Gordon Matta-Clark | NIGHT SCENE NEW YORK (2009) Dir. Jem Cohen | Annie Ling reading an excerpt from Crazy Melon and Chinese Apple: The Poems of Frances Chung.
Sat, Jan 25 6:00pm | Program 2: The Touch of an Eye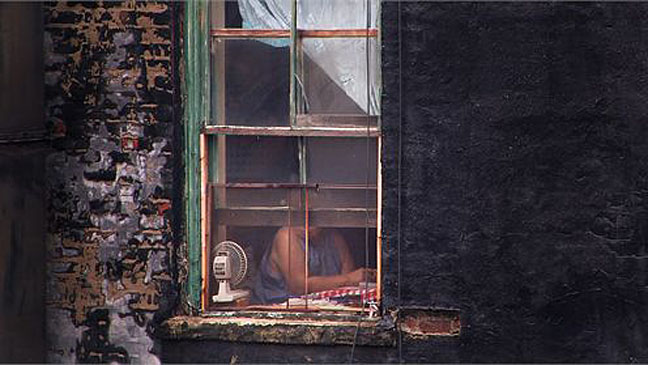 Touch, by Shelly Silver
The view from above – the bird's eye view – can be omniscient and detached, playful and wicked.
Shelly Silver
's TOUCH, a restrained yet endlessly sensual ciné-essay on loss and presence, takes us on a journey that begins with the psyche of an enigmatic son who returns as both insider and outsider to a Chinatown from which he escaped. Celebrated 1960s community activist
Tom Tam
also shot irrepressibly inventive experimental films of the world he fought so hard to defend. Tam's pixilated glimpse of a boy on a roof gives voice to a child's sense of flight and the realization that he will never have wings.
BOY ON CHINATOWN ROOF (1970s) Dir. Tom Tam | TOUCH (2013) Dir. Shelly Silver.
Sat, Jan 25 8:00pm | Program 3: Chinatown Problematics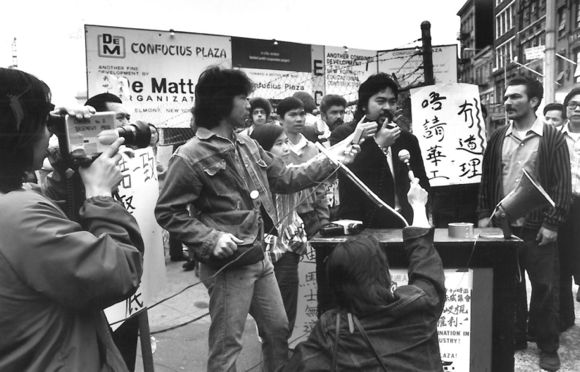 Photo Courtesy of Corky Lee
How can realities be engaged if the idea of a place has already been mediated by a sense of otherness and displacement? It all began with the name "Chinatown", a specific place that can be found in many cities of the world. THE TROUBLE WITH CHINATOWN, originally aired on WNBC in the 1970s was a survey of social and educational problems. A 2013 CNN "exposé" on the "dirty, dangerous firetrap" at 81 Bowery Street sparked the eviction of the tenants who couldn't afford another place to live. The reactions today can be linked to
Tom Tam
's silent film TOURIST BUSES, GO HOME! that protests against Chinatown tourism.
Shelly Silver
's 5 LESSONS AND 9 QUESTIONS ABOUT CHINATOWN interweaves fragments of neighborhood lives with questions of history, change, a sense of belonging and home. Followed by an informal talk by photographer
Corky Lee
, an activist in the Asian and Pacific American community for the past forty years.
WNBC-TV THE TROUBLE WITH CHINATOWN (1970) Dir. Bill Turque | TOURIST BUSES, GO HOME! (1969) Dir. Tom Tam | 5 LESSONS & 9 QUESTIONS ABOUT CHINATOWN (2011) Dir. Shelly Silver | CNN report on 81 Bowery St: "Eviction & Protest" (2013) | Photos and artist talk by Corky Lee.
Sun, Jan 26 5:00pm | Program 4: Bowery Street Playbill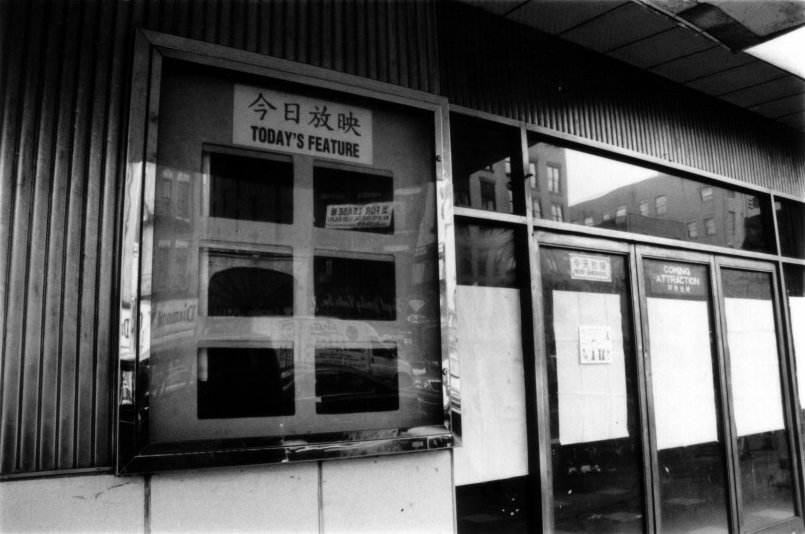 Music Palace, by Eric Lin
Quotidian life is provoked and embodied in this eclectic playbill of Chinatown. We begin with a quietly rueful look at the closing-down of MUSIC PALACE, the last Chinatown movie theater on Bowery Street. In contrast is MAKING CHINATOWN, a reenactment parody of Polanski's CHINATOWN and its profiling LA Chinatown as a lawless enclave. From the upfront self-mocking of PAPER SON, to two lesbians munching fortune cookie messages in I AM STARVING, to following grocery shoppers home for dinner in THE TRAINED CHINESE TONGUE, everyday experiences constantly negotiate the personal. Interspersed are two historical documentations of Chinese New Years in the 40s and 60s. Chinatown-born photojournalist
Alan Chin
will provide his vision of the neighborhood through his candid, sharply rendered insider's eye.
MUSIC PALACE (2005) Dir. Eric Lin| MAKING CHINATOWN Pt. 7 (2012) by Ming Wong | I AM STARVING (1998) Dir. Yau Ching | THE TRAINED CHINESE TONGUE (1994) Dir. Laurie Wen | YEAR OF THE RAT (1963) Dir. Jon Wing Lum | Photo slideshow by Alan Chin
.
Sun, Jan 26 7:30pm | Program 5: A Time of Two Square Miles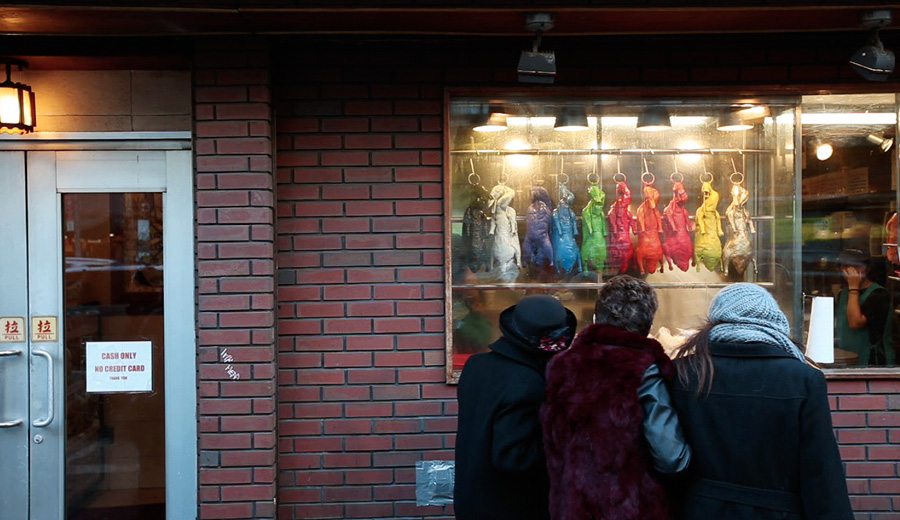 Chinaman's Suitcase, by Jiaxin Miao
Mixing live readings and videos, this program investigates domestic and public spaces in the two square miles of Chinatown. Shanghai-born performance artist
Jiaxin Miao
carries his suitcase between Chinatown and Zuccotti Park and then boldly sprays colors onto roast ducks. Galvanized by flickering and fast forward motions, revered political activist Tom Tam's intimate camera work captures the communal life of a health fair in Columbus Park.
Lynne Sachs
' hybrid documentary is set in shift-bed rooms in Chinatown where performers transform their everyday movements into dance and are tenderly challenged to leave their shared, self-supporting world. After traveling ten thousand miles to get here, what is it like to go five miles further? Followed by readings of work by novelist Ha Jin and poet
Frances Chung
, who belong to two different generations of Chinese-American writers.
Herb Tam reading an excerpt by novelist Ha Jin | CHINATOWN STREET FESTIVAL (1970s) Dir. Tom Tam | CHINAMAN'S SUITCASE (2011) Featuring Jiaxin Miao | YOUR DAY IS MY NIGHT (2013) Dir. Lynne Sachs | Paolo Javier reading a poetry by Frances Chung
.